Package

Price

Session Length

Printed Photos

Online Gallery

DVD of Session

Gender Determination

Listen to Heartbeat

Heartbeat Animal

Gender Packages (14-23 weeks) "Free re-do if we are unable to determine gender at 14 weeks" Ask about our money back guarante Free extended sessions for customers who reserve with a $20 deposit

Gender Only 2D (14-38weeks) great for gender determination/confirmation, listen to the heartbeat, or see baby's position before birth.

$60

10 -15 min

2 B&W Pics

$10

$10

Add $20

Gender Reveal Package 2D with 3D/4D Sneak Peek

$75

15 min

2 B&W
1 Color

$10

Add $20

Gender Plus Package (2D scan with a sneak peak in 3D/4D)
*Discounted Photography Services. Please call for details.

$105

20 min

3 B&W
2 Color

Add $20

3D/4D Packages (after 24 weeks)

3D/4D Mini Package

$95

15 min

3 B&W
1 Color

$10




Add $20

3D/4D Deluxe Package

$125

20 min

4 B&W
2 Color

3D/4D PREMIUM PACKAGE

$155

25 min

5 B&W
4 Color

2D/3D/4D Final Peek Package (35 weeks and up). no re-dos or refunds

$70

15-30 min

1 B&W
1 Color

$10

Add $20

Multiple Visit Package

2 sessions anytime during your pregnancy (15-36 wks)

$200

20 min per session

5 B&W
4 Color

Included for one visit

SPECIALS - PLEASE CLICK "BOOK NOW" and review our specials under the "online special" tab. Specials update monthly on the 1st Free extended sessions for customers who reserve with a $20 deposit

A La Carte

CD 10-40 color 3D images and 4D video clips

$10 each

Color DVD of session recorded

$10 each

Online Stream

$20 each

Photo gallery (10-30 images in color)

$10 each

Online photo gallery (stays online for 90 days)

$10 each

4x6 printed Color photo

$5 each
NOTES:
We have a strict NO REFUND policy.
15% off for all return customers, military, veterans, and first responders
Discounted photography session available for all Stork Vision customers. Please Call for Details!
$25 fee for NO-SHOWS or cancellations without a 24 hour notice
Return customers receive 25% off any regular priced package (not applicable to our specials)
STORE INFO
Stork Vision Arlington
5001 S Cooper St.
Suite 208
Arlington, TX 76017
Se habla español
Appointments can be made online 24/7
Appointments can be made by phone Monday-Friday 9am-6pm and Saturday 9am-3pm
(p) 817.233.9630
(f) 817.394.2325
(e) storkvisionarlington@gmail.com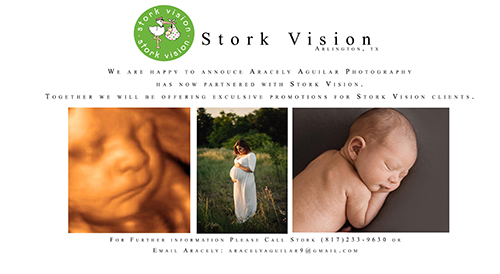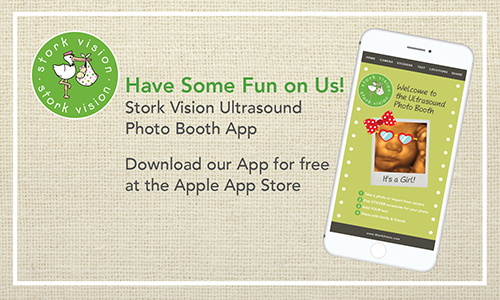 RESTRICTIONS
Please know that Stork Vision® requires that all expectant women seeking 2D, 3D, or 4D elective ultrasounds must be receiving prenatal care. Stork Vision® also requires written verification, consent, or authorization from Healthcare Providers prior to performing any ultrasound service. Prenatal Ultrasounds performed by a Stork Vision® ARDMS® Sonographer does not replace the full anatomical diagnostic ultrasound provided by the Prenatal Healthcare Provider. Stork Vision's® limited diagnostic ultrasounds are limited to noting fetal number, baby's position, baby's gender, and the presence of a fetal heartbeat. All Sonograms are performed by appointment only.