Package

Price

Session Length

Printed Photos

Online Gallery

DVD of Session

Gender Determination

Listen to Heartbeat

Heartbeat Animal

Gender Packages (14-23 weeks) "Free re-do if we are unable to determine gender at 14 weeks" Ask about our money back guarante Free extended sessions for customers who reserve with a $20 deposit

Gender Only 2D (14-38weeks) great for gender determination/confirmation, listen to the heartbeat, or see baby's position before birth.

$60

10 -15 min

2 B&W Pics

$10

$10

Add $20

Gender Reveal Package 2D with 3D/4D Sneak Peek

$80

15 min

2 B&W
1 Color

$10

Add $20

Gender Plus Package (2D scan with a sneak peak in 3D/4D)
*Discounted Photography Services. Please call for details.

$105

20 min

3 B&W
2 Color

Add $20

3D/4D Packages (after 24 weeks)

3D/4D Mini Package

$105

15 min

3 B&W
1 Color

$10




Add $20

3D/4D Deluxe Package

$135

20 min

4 B&W
2 Color

3D/4D PREMIUM PACKAGE (includes free slide show of sonogram session set to music, and mobile photo gallery)

$155

25 min

5 B&W
4 Color

2D/3D/4D Final Peek Package (35 weeks and up). no re-dos or refunds

$70

15-30 min

1 B&W
1 Color

$10

Add $20

Multiple Visit Package

2 sessions anytime during your pregnancy (15-36 wks)

$180

20 min per session

5 B&W
4 Color

SPECIALS - PLEASE CLICK "BOOK NOW" and review our specials under the "online special" tab. Specials update monthly on the 1st Free extended sessions for customers who reserve with a $20 deposit

A La Carte

CD 10-40 color 3D images and 4D video clips

$10 each

Color DVD of session recorded

$10 each

Online photo gallery (stays online for 90 days)

$10 each

Slide show video set to music (perfect to share your experience with family on social media)

$15 each
NOTES:
No Refunds on services. All sessions come with one free re-do if we are not able to get a photo of the profile or the face for the 3D/4D packages, and a free re-do if we cannot get the gender for the gender packages. (excludes final peek)
15% off for all return customers, military, veterans, and first responders
Discounted photography session available for all Stork Vision customers. Please Call for Details!
We offer Free extended sessions for customers who reserve with a $20 deposit. Appointments can be re-scheduled at no cost or penalty within 24 hours.
Return customers receive 25% off any regular priced package (not applicable to our specials)
STORE INFO
Stork Vision Arlington
5001 S Cooper St.
Suite 208
Arlington, TX 76017
Se habla español
Appointments can be made online 24/7
Appointments can be made by phone Monday-Friday 9am-6pm and Saturday 9am-3pm
(p) 817.233.9630
(f) 817.394.2325
(e) storkvisionarlington@gmail.com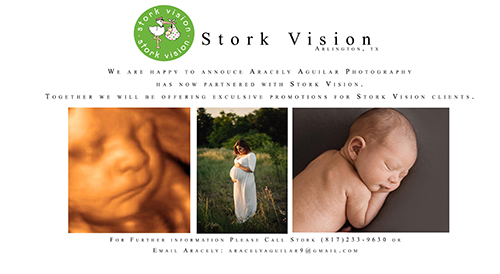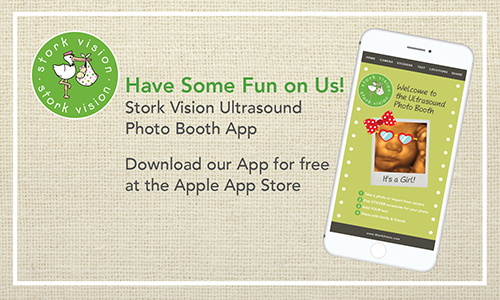 RESTRICTIONS
Please know that Stork Vision® requires that all expectant women seeking 2D, 3D, or 4D elective ultrasounds must be receiving prenatal care. Stork Vision® also requires written verification, consent, or authorization from Healthcare Providers prior to performing any ultrasound service. Prenatal Ultrasounds performed by a Stork Vision® ARDMS® Sonographer does not replace the full anatomical diagnostic ultrasound provided by the Prenatal Healthcare Provider. Stork Vision's® limited diagnostic ultrasounds are limited to noting fetal number, baby's position, baby's gender, and the presence of a fetal heartbeat. All Sonograms are performed by appointment only.