Package

Price

Session Length

Printed Photos

CD of Images

DVD of Session

Gender Determination

Listen to Heartbeat

Heartbeat Animal

USB FLASH DRIVE

Gender Packages (15 -23 weeks)

Gender Reveal Package

$80

10 min

3 B&W Pics

CD

Add $30

Add $20

Gender Plus Package (2D scan with a sneak peak in 3D/4D)
*Discounted Photography Services. Please call for details.

$105

20 min

5 B&W Pics

CD

Add $30

Add $20

3D/4D Packages (after 24 weeks)

3D/4D Mini Package

$105

15 min

5 B&W Pics




Add $30

Add $20

3D/4D Deluxe Package

$135

20 min

7 B&W Pics

CD

DVD

Add $20

3D/4D Premium Package
*FREE Prenatal Massage with spa810 *Discounted Photography Services. Please call for details.

$185

25 min

10 B&W Pics

CD

DVD

Multiple Visit Package

2 sessions anytime during your pregnancy (15-36 wks)

$205

20 min per session

5 B&W Pics

CD

DVD

Add $20

A La Carte

CD

$10 each

DVD

$20 each

USB FLASH DRIVE

$20 each

Heartbeat Animal-

We will record your baby's heartbeat and place inside any stuff animal of your choice. A keepsake to have forever!

$30 each
NOTES:
All sessions come with one free re-do if we are not able to get the profile or the face for the 3D/4D packages, and a free re-do if we cannot get the gender for the gender packages.
15% off for all return customers, military, and first responders
Discounted photography session available for all Stork Vision customers. Please Call for Details!
We have a no refund policy. We understand some babies are shy on their first session. In these cases we will have you come back the same day at a later time or offer a free re-do appointment on a completely separate date and time. Please call for more information on our re-do policy (free re-do not applicable for HeartBeat Buddy Package).
We are veteran owned and operated, and would love to show our appreciation for our military families by giving you 15% off any session, and any of our merchandise. THANK YOU FOR YOUR SERVICE!
Repeat customers receive 15% off on all visits after the first one for life! Come back and see us for all of your pregnancies.
STORE INFO
Stork Vision Dallas
Store Hours:
Monday through Saturday 9a-8p
2501 Oak Lawn avenue , Suite 390
Dallas, TX 75219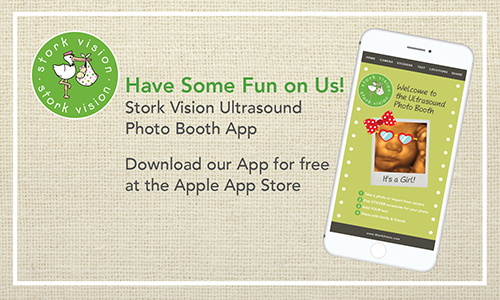 RESTRICTIONS
Please know that Stork Vision® requires that all expectant women seeking 2D, 3D, or 4D elective ultrasounds must be receiving prenatal care. Stork Vision® also requires written verification, consent, or authorization from Healthcare Providers prior to performing any ultrasound service. Prenatal Ultrasounds performed by a Stork Vision® ARDMS® Sonographer does not replace the full anatomical diagnostic ultrasound provided by the Prenatal Healthcare Provider. Stork Vision's® limited diagnostic ultrasounds are limited to noting fetal number, baby's position, baby's gender, and the presence of a fetal heartbeat. All Sonograms are performed by appointment only.