NOTES:
No Refunds on services. All sessions come with one free re-do if we are not able to get a photo of the profile or the face for the 3D/4D packages, and a free re-do if we cannot get the gender for the gender packages. (excludes final peek)
15% off for all return customers, military, veterans, and first responders
Discounted photography session available for all Stork Vision customers. Please Call for Details!
We offer Free extended sessions for customers who reserve with a $20 deposit. Appointments can be re-scheduled at no cost or penalty within 24 hours.
Return customers receive 25% off any regular priced package (not applicable to our specials)
STORE INFO
Stork Vision Grapevine
Phone Scheduling Hours: Mon-Fri 8:30a-7p, Sat 9a-6p, Sunday 12p-4p
Ultrasounds done by appointment only
Same day appointments available
520 S Main St Suite 206
Grapevine, TX 76051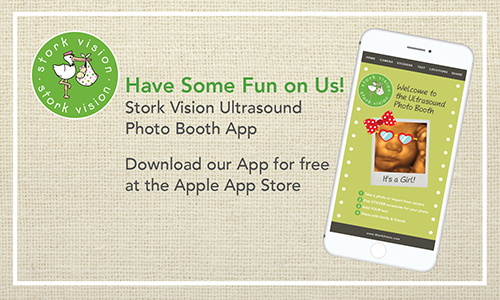 RESTRICTIONS
Please know that Stork Vision® requires that all expectant women seeking 2D, 3D, or 4D elective ultrasounds must be receiving prenatal care. Stork Vision® also requires written verification, consent, or authorization from Healthcare Providers prior to performing any ultrasound service. Prenatal Ultrasounds performed by a Stork Vision® ARDMS® Sonographer does not replace the full anatomical diagnostic ultrasound provided by the Prenatal Healthcare Provider. Stork Vision's® limited diagnostic ultrasounds are limited to noting fetal number, baby's position, baby's gender, and the presence of a fetal heartbeat. All Sonograms are performed by appointment only.