Package

Price

Session Length

Printed Photos

Gender if Requested

Listen to Heartbeat

Digital Upgrade: Multiple Highlight Clips/Still Images in Online Gallery to SHARE on ANY device with ANYONE!

Photos Online Gallery

DVD of Session

Heartbeat Animal

Free Redo

Multiple Visit Package

The Full Storky

$350

20min / 30min

The Full Storky is everything we have to offer combined into ONE price. Most people choose all these options anyway, we are just making it easier for you to get what you want. The Full Storky includes: TWO appointments- Gender Plus and Deluxe packages, FREE Heartbeat Animal of your choice, adds Digital Upgrade for each appointment, & YOUR CHOICE of either the 12x12in. Oil Canvas painting of your favorite ultrasound photo OR 12x24in. Canvas painting of your baby's heartbeat tracing! $40 savings when booking all this together!

If we can't see the face or profile

Double the Fun: Come in for the Gender Plus and Deluxe packages. Receive a FREE Heartbeat animal of your choice

$265

20min / 30min

add $5

Included, see Add-ons for USB Prices

Included unless upgraded to Digital

Free

If we can't see the face or profile

3D/4D Packages

Gender Plus: 15-22 weeks only

$110

20 min

add $5

Included, see Add-ons for USB Prices

Included unless upgraded to Digital

add $30

If we can't see the gender only

Early Face Pictures: 22-25.6 weeks only Can be utilized for Gender determination

$125

20 min

add $5

Included, see Add-ons for USB Prices

Included unless upgraded to Digital

add $30

N/A

Deluxe: 26 weeks and after

$155

30 min

add $5

Included, see Add-ons for USB Prices

Included unless upgraded to Digital

add $30

If we can't see the face or profile

2D Packages

Prince or Princess: 15-22 weeks only NO 3D4D (Please no twins or multiples for this package, as it is not enough time. Please book the Gender Plus instead.)

$90

15 min

add $5

Included, see Add-ons for USB Prices

Not included

add $30

If we can't see the gender only

Quick Peek: 10-14 weeks only

$70

10 min

2 B&W photos

Not for gender

See Heartbeat Only

add $5

Not Included, see Add-ons for USB Prices

Not included

NA

N/A
Add Ons
Keepsake Heartbeat Animals: $30 * Heartbeat Recordings NOT allowed prior to 14wks per ARDMS recommendation
Digital Video Upgrade $5
*12x12 Oil Canvas Painting of Favorite Ultrasound Image by Mnd's Crafters &Paintings: $80, only $20 deposit due at time of appointment
DVD $15
USB Flash drive $20
NOTES:
**A $50 deposit is required for all ultrasound packages. If you book online, the deposit invoice will be sent to your EMAIL within 24-48hrs and you will pay online. If you call the office direct to book your appointment, the deposit is due at that time. Thank you for understanding.**
Return customer discount on the Deluxe package during the SAME pregnancy- must purchase either the Gender Plus or Prince or Princess 

$75 revisit package (with same pregnancy) if purchased Deluxe or Double the Fun packages.
WE NOW OFFER MILITARY DISCOUNT! $15 OFF ANY PACKAGE OVER $100
WE DO NOT CHARGE EXTRA FOR TWINS
To Schedule an Appointment Call 715.514.3400 or BOOK NOW Online!
STORE INFO
Stork Vision Eau Claire
We are appointment based and although we have set hours for each day of the week, we may adjust these hours without notice due to set appointments or lack thereof.

Hours:
Monday, Wednesday, Thursday:
10am-4pm
Tuesday: 11am-5pm  
Friday: 9:30am-3pm
Alternating Saturdays: 10am-2pm

We do not accept walk-ins, but typically have same day appointments. Give us a call to check availability.

Contact:
(p) 715.514.3400
(e) storkvisioneauclaire@yahoo.com
Address:
2004 Highland Ave
Suite 2E
Eau Claire, WI 54701
We are conveniently located off Hastings Ave in Eau Claire:

Social Media:
Please visit our social media pages to compare our ultrasound photos to our local competitors.

We pride ourselves on getting the clearest, best quality of ultrasound images we can of your baby.

Facebook:


We even have multiple pictures and video, as well as, weekly deals on Google. Just Google Stork Vision Eau Claire to see.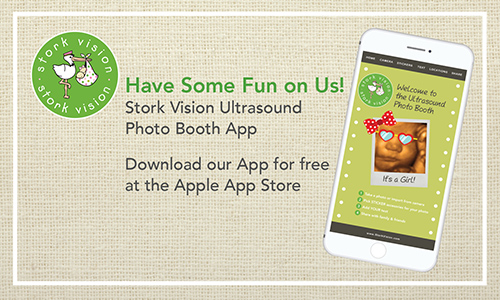 RESTRICTIONS
Please know that Stork Vision® requires that all expectant women seeking 2D, 3D, or 4D elective ultrasounds must be receiving prenatal care. Stork Vision® also requires written verification, consent, or authorization from Healthcare Providers prior to performing any ultrasound service. Prenatal Ultrasounds performed by a Stork Vision® ARDMS® Sonographer does not replace the full anatomical diagnostic ultrasound provided by the Prenatal Healthcare Provider. Stork Vision's® limited diagnostic ultrasounds are limited to noting fetal number, baby's position, baby's gender, and the presence of a fetal heartbeat. All Sonograms are performed by appointment only.