STORE INFO
Stork Vision Fort Worth
906 W Cannon St • #108 • Fort Worth, TX 76104
(p) 817.992.0798 • (e) storkvisionfortworth@yahoo.com
Store Hours:
Sunday-closed
Monday-closed
Tues-10:00 - 6:00
Weds-10:30 - 6:30
Thurs- 10:00 - 6:00
Fri- 10:00 - 6:00
Sat- 9:00 - 3:00

Please call/text/email us anytime to 817.992.0798 or storkvisionfortworth@yahoo.com. If your call is not answered, please leave a message as we will return your call as soon as we can. You may also go to our website at  www.storkvision.com choose the FORT WORTH location and click BOOK NOW. You will be able to book appointments and get information on each of our packages.
Guidelines:
1) 6 guests may come with you for a total of 7 people for this ultrasound. We encourage you to bring your other children as this is a family event.
2) You do not need to arrive earlier than 5 minutes before your appointment.
3) ALL GENDERS MUST BE 15 WEEKS.
Thank you for your business and as usual, we are here when you need us the most. Always providing exceptional customer service, high quality imaging, and the safest environment available for you and your baby.
Se habla espanol
Las citas se pueden hacer en línea 24 horas del día, los 7 días de la semanao o por telefono de Lunes a Viernes 10am-6pm y Sabado 9am - 3pm.
Estamos convenientemente ubicados en el Districto de Medico, justo al sur del centro de Fort Worth.
NO REFUNDS ON SERVICES
(leave a space between these 2 lines)
Military, veterans, first responders and teachers receive a 10% discount on all packages except specials.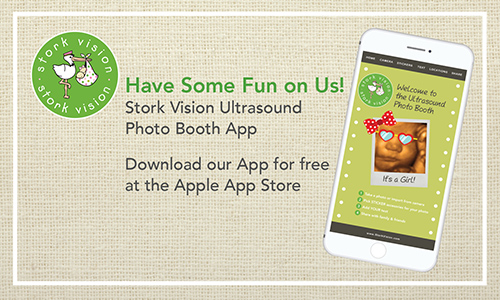 RESTRICTIONS
Please know that Stork Vision® requires that all expectant women seeking 2D, 3D, or 4D elective ultrasounds must be receiving prenatal care. Stork Vision® also requires written verification, consent, or authorization from Healthcare Providers prior to performing any ultrasound service. Prenatal Ultrasounds performed by a Stork Vision® ARDMS® Sonographer does not replace the full anatomical diagnostic ultrasound provided by the Prenatal Healthcare Provider. Stork Vision's® limited diagnostic ultrasounds are limited to noting fetal number, baby's position, baby's gender, and the presence of a fetal heartbeat. All Sonograms are performed by appointment only.