Package

Price

Session Length

Photos Included

Online gallery of all images

DVD of Session

Gender Determination

Listen to Heartbeat

Heartbeat Bear

2D Pregnancy Verification (9-14 weeks)

First Peek 2D

$60

5-10 min

3 photos

No

No

No

Heartbeat Plus

$80

5-10 min

3 photos

No

No

No

Heartbeat animal included

2D Gender Package (15-23 weeks)

Prince or Princess 2D

$95

10 min

3 photos

No

No

Heartbeat bear $35


Prince or Princess Plus 3D

$125

20 min

5 photos

$10

Heartbeat bear $35

3D/4D Packages(after 24 weeks)


Quick Peek - No Free Redo. 

$95

10 min

3 photos

No

No

No

Heartbeat bear $35


Special 3D/4D Ultrasound

$140

20 min

4 photos

No

Heartbeat bear $35


Deluxe 3D/4D Ultrasound

$195

30 min

5 photos

Heartbeat bear $35


Multiple Visit Package

Platinum 2 Visit Special 16-23 weeks & 24-32

$295

20 min &
30 min

5 photos each visit

Included
Add Ons
Heartbeat animal - large $35
Heartbeat animal accessories - $5 - $8
Extra CD of images - $10
Extra DVD - $10
NOTES:
Notes: **A $50 deposit is required for all ultrasound packages.  If you book online, this deposit is due when Stork Vision Lubbock calls and approves your appointment.  If you call the office direct to book your appointment, the deposit is due at that time.  A $50 no-show fee is applied if appointment is not cancelled within 24 hours of the appointment. There are some exceptions and Lori can go over them with you, should you need.  Thank you for your understanding. **
Return customer discount on a 3D/4D package if you purchase the Prince or Princess Gender Plus package. (excludes Quick Peek)
Free redo session if baby doesn't cooperate, EXCEPT for Quick Peek Package.
Military Discount:  $10 off our Prince or Princess Plus, Special, Deluxe or Platinum package with valid military ID.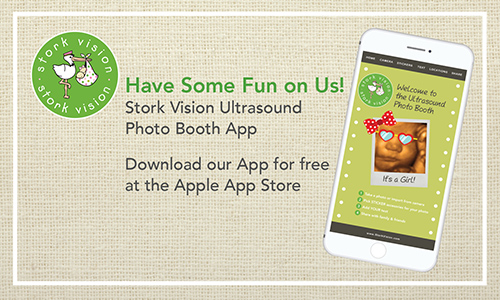 RESTRICTIONS
Please know that Stork Vision® requires that all expectant women seeking 2D, 3D, or 4D elective ultrasounds must be receiving prenatal care. Stork Vision® also requires written verification, consent, or authorization from Healthcare Providers prior to performing any ultrasound service. Prenatal Ultrasounds performed by a Stork Vision® ARDMS® Sonographer does not replace the full anatomical diagnostic ultrasound provided by the Prenatal Healthcare Provider. Stork Vision's® limited diagnostic ultrasounds are limited to noting fetal number, baby's position, baby's gender, and the presence of a fetal heartbeat. All Sonograms are performed by appointment only.