Package

Price

Session Length

Photos Included

CD with All Images

DVD of Session

Gender Determination

Listen to Heartbeat

Heartbeat Animal

2D Packages

Heartbeat Animal Package ( NO PICTURES INCLUDED ) Recording of baby's heartbeat only. 10-39weeks

$50

5 min

Sneak Peek
10-15 weeks 2d ultrasound
(Heartbeat Bear Add $40)

$75

10-15 min

2-5 photos

add $10

add $20

add $40

Prince or Princess
16+ weeks 2D ultrasound

$99

15 min

5 photos

add $10

add $20

add $40

Gender Plus (Quick Look in 3D/4D)
16-23 weeks 2D ultrasound



$125

15 min

5 photos

add $40

3D/4D Packages

Deluxe 3D/4D 24-32 weeks *OPTIMAL TIME IS 27-32 WEEKS. ( (FREE ** $95 custom print credit after a Newborn Photo session with Arrowhead Photo")

$169

20 min

5 photos

add $40

Multiple Visit Packages


Platinum 2-Visit
Gender plus at 16+ week
& 3D/4D Deluxe at 27-32 weeks (FREE ** $95 custom print credit after a Newborn Photo session with Arrowhead Photo")

$250

20 min

5 photos/
5 photos

add $40


Ultimate 3-Visit
Gender plus at 16+ week
3D/4D Deluxe at 25 weeks and 3D/4D Deluxe at 31 weeks info (FREE ** $95 custom print credit after a Newborn Photo session with Arrowhead Photo")

$349

20 min each

5 photos
5 photos
5 photos

add $40


Cant Resist One More Look package 32+weeks"(You must have had one 3D/4D Deluxe session at $169 during the same pregnancy)"

$100

10-15 min

2-5

add $10

add $20

add $40

STORE INFO
Stork Vision The Woodlands
250 Ed English Dr, Building 3, Suite B, Shenandoah, TX 77385
(WE ARE DOWN THE ROAD BETWEEN HOOTERS RESTAURANT AND DISCOUNT TIRE.  PORTIFINO OFFICE SUITES ON THE RT).
Store Hours: Mon-Sat 10-5 by appointment only
"Appointments can be made online 24 hours a day by clicking on the book now icon".
"Appointments can be made by phone M-Sat 10-5pm."
Check out our reviews on FB and Google!
(p) 713.540.0511 • (e) storkvisionthewoodlands@yahoo.com • (f) 936.273.8683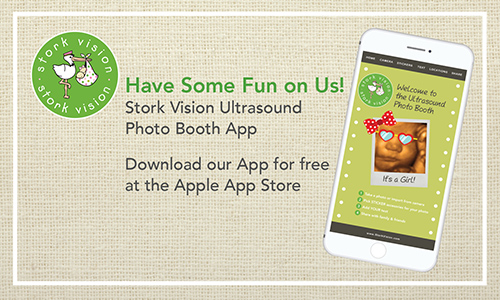 RESTRICTIONS
Please know that Stork Vision® requires that all expectant women seeking 2D, 3D, or 4D elective ultrasounds must be receiving prenatal care. Stork Vision® also requires written verification, consent, or authorization from Healthcare Providers prior to performing any ultrasound service. Prenatal Ultrasounds performed by a Stork Vision® ARDMS® Sonographer does not replace the full anatomical diagnostic ultrasound provided by the Prenatal Healthcare Provider. Stork Vision's® limited diagnostic ultrasounds are limited to noting fetal number, baby's position, baby's gender, and the presence of a fetal heartbeat. All Sonograms are performed by appointment only.